Bridal Trends with Heidy Serrano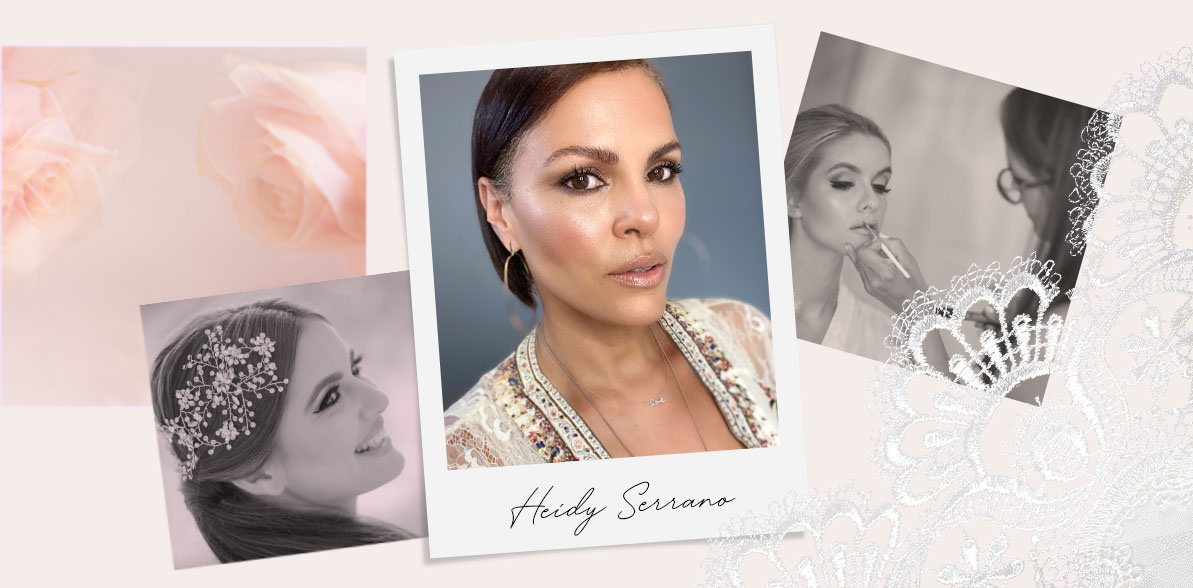 Heidy Serrano, Beauty Consultant & Makeup Artist
Bridal beauty trends may change each year but a bride's desire to look beautiful on her wedding day will never go out of style. It's no surprise then that Sisley Beauty Consultant, Heidy Serrano, has fielded a lot of bridal beauty questions from clients over the years We asked Heidy to answer some the most common questions brides are asking her right now. Read on for exclusive bridal beauty tips from one of Sisley's most sought-after makeup artists.
SKINCARE
I have six months until my wedding and I want to ensure my skin is in the best shape possible! What can I add into my skincare routine now that will make a big difference?
I highly recommend using an exfoliator such as Sisley's Gentle Facial Buffing Cream twice a week. This will help to eliminate dead skin cells and leave the complexion with a more smooth and radiant appearance. The Black Rose Cream Mask has always been a "bridal go-to" for me because it leaves a soothing, plumping, and brightening glow that works so well under makeup. Overall, proper hydration is the most important element to consider when are preparing your skin in the months leading up to your wedding. Hydra-Global is a lightweight, anti-aging moisturizer that can help support the skin's moisture balance to ensure your skin looks and feels its best the day of your wedding. Velvet Nourishing Cream is another great daily moisturizer option that will help you see a real difference in your complexion after months of use. It has a delicious texture that delivers intense hydration and nourishing ingredients.
My skin tends to get shiny at the end of a long day, how do I prevent this from happening on my wedding day?
This is a common concern and certainly one that brides tend to focus on when worrying about their makeup lasting all day. Try our Global Perfect Pore Minimizer after your moisturizer to diminish the appearance of pores and create a natural-looking, matte finish. Then choose the right primer to keep your skin shine-free but radiant for the entire day. My recommendation is Instant Perfect because it's going to eliminate shine and any shadowy areas while also blurring wrinkles and fine lines. You can then apply our translucent loose powder, Phyto-Poudre Libre, around your T-zone for extra insurance against shine. It will help keep your makeup fresh looking from morning to night.
I can't stop worrying that I will wake up the morning of my wedding with a blemish, redness, or just looking tired! What skincare products should I pack in case I need a last-minute skin fix?
Sisley is known for our fast-acting skincare masks, so I advise all my brides to have at least one mask on hand for the morning of the wedding. A lot of brides are too nervous to sleep in the days leading up to their wedding so our Radiant Glow Express Mask can really help you if you wake up looking fatigued. If redness and unevenness are a concern for you then bring Facial Mask with Linden Blossom. It's designed for sensitive skin and will help to calm the complexion and boost radiance. A last-minute blemish is something every bride worries about, but I tell them it does not have to ruin your day! It doesn't even have to be a part of your day; you just need the right coverage. Our Phyto-Cernes Concealer will reduce redness and camouflage the blemish completely.
MAKEUP
What makeup products can I use to get that classic, bridal glow on my wedding day? Are there any application tips that can enhance this effect for more radiance?
I have some great makeup products to recommend for that classic, "glowing bride" look, but the best application tips for this look is to start with less and build up as needed. For this bridal beauty look, less really is more!
Start by applying Double Tenseur all over the face for a lifting and smoothing effect that makes the perfect makeup canvas. It hydrates skin and helps foundation to last longer. For wedding day foundation, my favorites are Phyto-Teint Expert. Both are going to give you that flawless finish but will still allow a natural glow to come through. To eliminate shine throughout the day, try Blur Expert focus on the t-zone. Start with a light application after foundation and keep on hand throughout the day for touch-ups.
Next, I go with Le Phyto-Blush and will use a combination of shades depending on skin tone. Use it on the upper cheekbone, the tip of the nose, and on the upper brow for a touch of radiant light. Phyto-Khol Star eyeliner is the perfect wedding choice because it's waterproof and will stay put all day. I go over the pencil line with So Intense liquid eyeliner and finish by applying Phyto-Khol Star to the inner corners of the eyes to brighten and illuminate the eye area. Complete your eye look with a black mascara, my personal favorite is So Stretch, because it intensifies the lashes to add just the right amount of glamour.
On your lips, I recommend starting with Le Phyto Rouge Lipstick because it is so beautiful and long lasting, they were made for a wedding look! It will give your pout a sexy finish and the added hydration it needs to be comfortable and look good in photos all night.
I would love a natural, fresh-faced makeup look for my wedding but I'm worried about looking too pale. How can I give my skin a sun-kissed glow that will still look natural?
That is such a great question because you don't want to overcompensate and look unnatural in your photos. This is exactly why I love, LOVE, Sisley's Phyto-Touche Illusion d'Ete bronzing gel-powder. It has micronized pigments to give you a natural, uniform finish that looks like you spent just a few hours in the sun. I like to apply it all over the face and will use it to contour as well. It's so pretty on every skin tone!
My wedding dress is very traditional so I would love to pair it with a modern beauty look. Which current beauty trends do you think work with any style of dress?
The most popular bridal makeup trends for 2021 will absolutely work with any style of wedding dress. My personal favorites are the natural look, a lot of nude palettes, gold accents, smokey eyes, and of course flawless, glowing skin. I love to build a look around a glowing complexion and to play up the colors of a bride's eyes.
HAIR
I know that I need to take care of my skin in the months leading up to my wedding, but what about my hair? Is there anything I can do to prep my hair for the big day?
The short answer is yes, using the right haircare products leading up to your wedding can make a big difference in the way your hair will look. Sisley has a variety of great hair products targeted to your specific hair type including shampoos, conditioners, a pre-shampoo mask and a regenerating hair mask. I highly recommend starting to incorporate our new Restructuring Nourishing Balm into your routine to repair any damage in your hair before the big day. It's equally important to prevent any new damage before your wedding and the new La Cream 230 will nourish hair as it protects fibers from heat styling and blow-drying. It's an excellent product!
I want to glow from head to toe on my wedding day and that includes my hair. How can I boost its shininess and glossiness?
I've turned many brides on to Sisley's Precious Hair Care Oil because it does just what you are describing. Your skin is glowing and so should your hair! The oil gets applied from the middle of your hair to the ends and it can go on damp or dry hair. It's not going to weigh your hair down at all but it does help your hair to reflect light so it looks shinier and super healthy.
I am planning to wear my hair down for my wedding, but I'm worried it's going to fall flat by the time I get down the aisle. What can I do to create volume that will last through the night?
A lot of women think volume can only be created with styling products, but it really starts in the shower with your scalp. I swear by Sisley's Hair Ritual Volumizing Shampoo and Conditioner to give hair that extra lift with a shinier, more energized look. Once you are out of the shower, apply our Volumizing Spray to damp hair. It's incredibly lightweight and supports the hair from the roots for a visible increase in volume and texture.
I am loving the current wedding hair trend of very loose updos and textured waves, but how do I make sure my "natural" look doesn't end up looking messy with frizz and flyaways?
Your wedding day is the perfect time to use hair extensions to add fullness. This will keep your style pulled together so you don't have to worry about it looking messy. The right products are the key to this look however, so you should first prep with Sisley's Volumizing Spray and Precious Hair Care Oil to keep give your natural look a silky finish with all-day volume.