The art of beauty
ARTIST IN RESIDENCE
Throughout the year, Sisley shines a spotlight on great talent in the world of beauty. Discover exclusive content as the months go by: tutorials, product application secrets, expert advice, and more.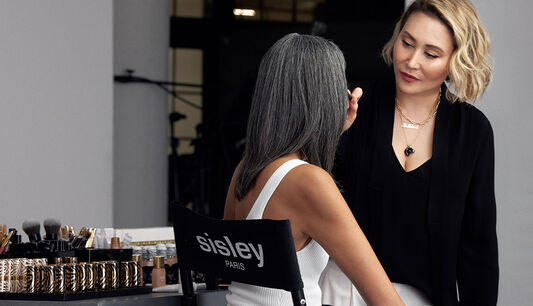 The makeup artist stands out with a spontaneous approach to beauty, where the golden rule is that there are none.
Learn more
NEW ARTIST
Eye twist quick look
Robin Black's technique for applying Phyto-Eye Twist quickly and effectively is perfect for rushed mornings!
Inspirations
Looking for inspiration for your next signature look? Look no further than the latest makeup trends.
Smoky Siren Eyes
Bewitching eyes in three steps.
Nineties Nude Lip
A nude lip inspired by iconic looks from the 1990s.
Silky Sapphire Eyes
Party makeup that mixes different shades of blue.
Cherry Lacquer Lip
Lips with a syrup-like shine for evening.
Opposites attract
A hint of violet for a touch of extravagance.
Other artists
In 2022, two internationally renowned makeup artists took part in the Artist in Residence program: Jo Baker and Florrie White. Discover their beauty secrets and tutorials exclusively produced for Sisley.
Tutorials
The makeup artists participating in the Artist in Residence program share their exclusive beauty secrets and professional tips with Sisley.
How to prepare your skin?
Professional advice: prep your skin before applying makeup.
Seasonal make up
Makeup featuring spring colours.
Get unready with me
Guide to flawless makeup removal.
Articles
Renowned makeup artists share their beauty vision and secrets.