From her A-list clients and personal routine to yours.
When a celebrity has you on speed dial, one thing's for certain: your kit is always on call. Only the most trusted products make the cut and each is meticulously selected to deliver fail-proof performance and help create that next red carpet moment.
With clients that include Vanessa Kirby, Kristen Wiig, and Lucy Boyton, celebrity makeup artist Jo Baker is known for creating iconic moments with her inspired and perfected artistry.
Discovering the products that get Hollywood's A-listers red-carpet ready is highly sought-after information, but the holy grail is the products the artists also use on themselves.
From skincare staples to flawless foundation, we asked Jo to reveal her all-time most beloved products, career staples, and some new additions to her coveted kit.
Keep scrolling for all her top picks!
1. Double Tenseur Priming Skincare
"I'm not a fan of traditional primers," shares Jo, "but this is no ordinary skincare. With a unique oat seed extract that acts as a layer of flexible skin lycra, Double Tenseur creates a firming, bouncing, and tightening effect that you notice immediately upon application."
But the priming perks don't stop there. Jo notes, "It cradles and comforts your skin, keeping your makeup fresh and supported all day long."
2. Phyto-Cernes Éclat Eye Concealer with Botanical Extracts
"This has been in my kit for a long time… years!" shares Jo. "It's like an eye-gel mixed with concealer - and by concealer I mean light diffusing trickery - in shades that may not seem typical like gentle peach and pink undertones. You just dab it around the inner corner of your eyes, and it makes the blue, hollow, and tired eye-look disappear in seconds."
But don't forget the formula's skincare benefits. Jo notes, "It's packed with arnica, which is known for its anti-inflammatory healing properties, and caffeine, in order to boost circulation around the eyes," shares Jo. "It makes a dramatic visible difference in seconds."
Jo's favorite way to apply Phyto Cernes Éclat? "Enjoy the cool steel applicator to dab a few dots around the eye area," she says. "Hold it on areas that are particularly puffy to further help soothe and revitalize fatigued eyes. Then, gently tap it in, which is invigorating to the skin, with a light ring finger motion."
"Phyto-Teint Nude is a new item of treasured skinwear in my kit," reveals Jo, who's used the new foundation on several of her red carpet looks this season. "This water-like, featherlight veil perfects your skin without masking it at all."
Why she loves it? "It smooths over skin like a serum and leaves it looking radiant, bright, and fresh, while still allowing your natural beauty to shine through. Freckles are not hidden - I love being able to see skin and not just foundation," says Jo.
"Invisible coverage at its finest!" shares Jo. "No need for buffing or blotting with a sponge! Phyto-Teint is airy and no fuss, your skin will feel more refreshed, without a visible trace of foundation - even up close!"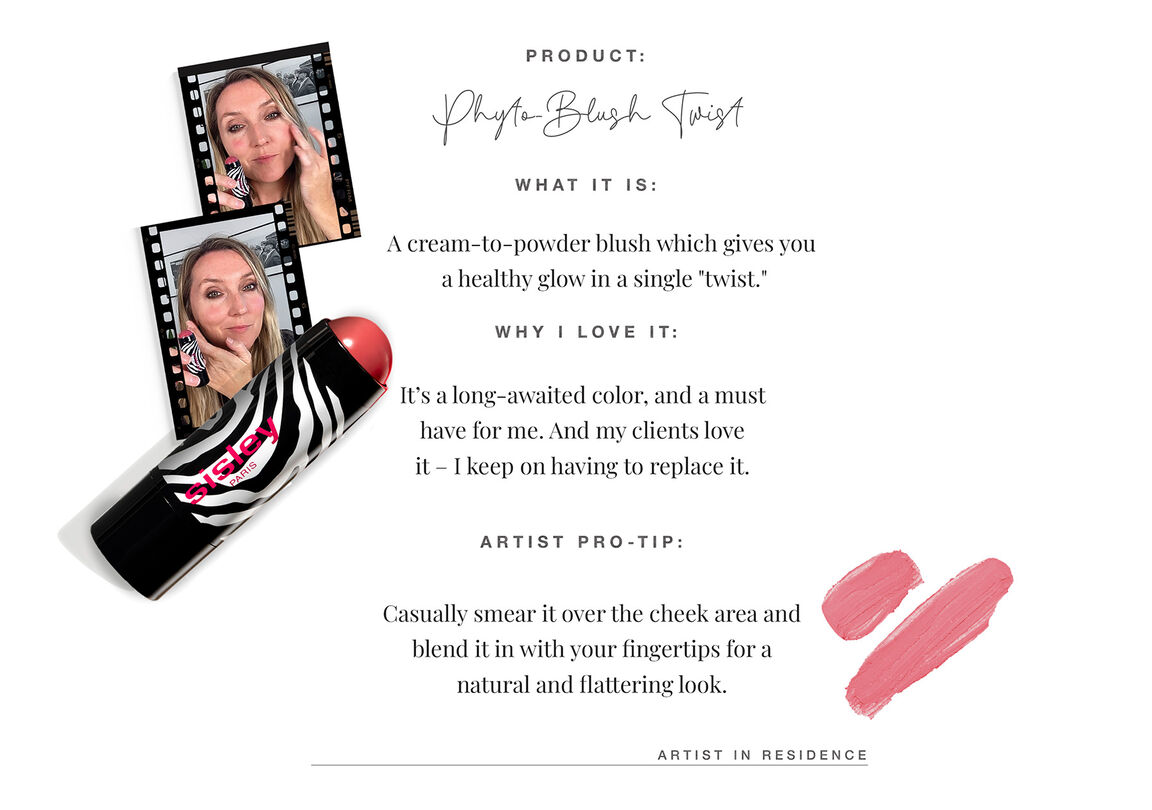 4. Phyto Blush-Twist N°7 "Berry"
"I've been waiting for this cheek color to pop up for years!" shares Jo. "Phyto-Twist in N°7 has a soft satin, matte cream texture with a subtle berry tint," she says. "It's a must-have for me, and my clients love it - I keep having to replace it!"
The twist-and-go design makes application a breeze. Jo notes, "Put a couple of casual smears or dabs over the cheek area and blend with fingertips for a natural, universally flattering look.".
"I love this mascara and have had one for years," shares Jo. "Its ability to keep lashes feeling silky and supple throughout the day allows me to reapply and add a few more coats when day turns to night - without any crumbling or flaking."
The secret behind this cult-favorite mascara is So Curl's complete formula, infused with skincare benefits, to nourish lashes. "The care infused formula penetrates your lashes with vitamins and peptides making them stronger and thicker each day," shares Jo.
As for Jo's Red Carpet ready application? "Create an initial base by wiggling the applicator from root to tip," she says. "For a round, Bambi-looking lash, vertically hold the mascara wand and use the end to tease out the inner and outer lashes."
As for a sharper, more angled lash, Jo says to "skip the inner lashes and concentrate on the outer lash line, stroking the lashes in a linear motion, creating a more angular wing look."
I pick So Curl Mascara for myself, and my clients, because I know I will get a full, shaped lash that will last all day. And, when I remove it at night, my lashes will have been cared for and conditioned the entire day - even though I was wearing makeup!
Jo Baker, Artist in Residence
6. Sisleÿa Radiance Anti-Dark Spot Serum
"New this fall and it already hasn't left my side… I'm dead serious. It's been a couple of months now that I have not had a day or night without it," reveals Jo Baker when speaking about the new Sisleÿa Radiance Anti-Dark Spot Serum.
"This glowy, radiant, and hydrating serum glides over the skin and instantly gives you a 'just-had-a-facial' look," she says. "I've received so many compliments lately, saying I am constantly glowing, even though I'm traveling a lot and constantly jet lagged. I 100% attribute this to this serum - it is keeping my skin looking and feeling fantastic."
When it comes to her own application, Jo shares her routine. "I use the serum morning and night - 2 pumps on clean skin. There's instant radiance and I noticed within days a natural, beamy texture on the skin, even with no makeup on it. After weeks, my redness had diminished with a clearer, brighter complexion," she says. "I'm also thrilled to notice it is starting to tackle the sunspots I have accrued from my years living in LA. Could not love this product more."
"I'm a big die-hard fan of this product - it was probably the first Sisley product I became addicted to," says Jo about Sisley's Eye Contour Mask. "This decadently thick, hydrating cream can be applied as a quick 10-minute mask…or it is even better to keep it on overnight, for hours of eye area conditioning."
Either way, Jo is a fan of the results. "It plumps the area and hydrates to the maximum - it doesn't just sink in or evaporate," she shares. "I use it on planes because its thicker consistency protects and nurtures my skin from air conditioning and the change in pressure."
As for her application advice? "Dab around your eye generously - you'll see what I mean," says Jo. "Keep the product on for 10 minutes or 10 hours and it will stay gleaming around your eye area and dewy to touch! It's like a hydration bath for your eyes!"
8. White Ginger Contouring Oil for Legs
"This one is my self pamper travel splurge. It gets zip locked and thrown into my checked luggage on EVERY trip," confesses Jo, whose work travels regularly span the globe.
"Once I land, I don't recognize my legs and feet… they are indented and feel fatigued. I'll always shower or bathe right away and spend a good 20 minutes massaging my legs with the White Ginger Contouring Oil for Legs," shares Jo.
"It helps with boosting my circulation and flushing the lymphatics, helping to bring my body back to life!" she says. "Ginger is a heavyweight in health and wellness and renowned for helping boost circulation and increase blood flow. The scent is also incredible for travel and motion sickness as well as digestion discomforts or nausea, making this an all-around gem of a self-pamper product."
Jo also shares her step-by-step application. "I apply it just like a deep tissue massage, using long, firm pressured strokes up the leg and fingertips for added pressure points around the ankles, feet, and knees," shares Jo. "I'll also drink lots of water and in 15-25 minutes, notice the skin tone will be much improved, as well as the appearance of the legs," she says. "This is one of those products that is absolutely key if you travel a lot and need to land and get straight to work, or maybe to an event. It really does the trick."
That's a wrap on Jo's must-have essentials, but you can continue the conversation and discover more of her residency on Instagram @sisleyparisofficial.