Your Routine: Dry Skin
When the skin's moisture barrier is not working optimally, dryness can occur and lead to tightness, irritation, dullness, and more visible age lines. Sisley Paris offers multiple selections for every skincare step, all of which help to maintain the delicate balance of these skin types.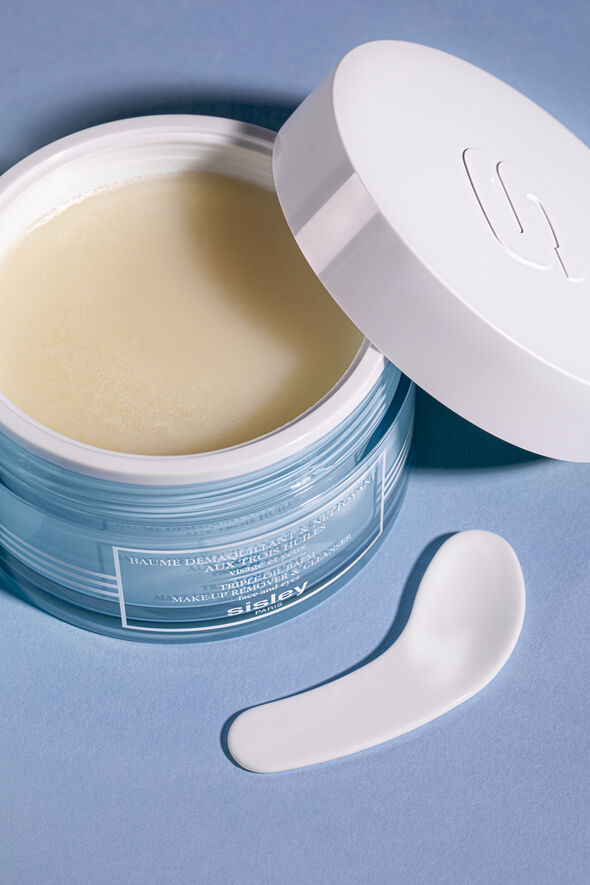 Step 1: Makeup Removal

Makeup residue can cause further dryness in skin that is already suffering from a lack of moisture. You will want to start your cleansing routine with a makeup remover that is as gentle as it is effective. The Eye and Lip Gel Makeup Remover can erase even the most stubborn waterproof makeup while providing essential hydrating benefits. This lightweight, gel texture melts into the skin leaving a refreshed and luminous appearance. Try Lyslait for a creamy, milky texture that dissolves makeup and delivers softening ingredients to comfort dry skin.
Step 2: Cleanse
Dry skin types should look for added moisture and comforting ingredients in every step of their skin care routine and cleansing is no exception. Proper cleansing is important to reduce any dullness and unevenness that can result from lack of moisture. Sisley has multiple options that provide both the effectiveness and gentleness necessary to care for dry skin. The Soapless Gentle Foaming Cleanser is a mild formula that won't irritate dry skin. Rich in emollients and soothing ingredients, including Shea butter and Sunflower oil, it creates a comforting feeling of suppleness after cleansing.
The Radiance Foaming Cleanser features a unique texture that transforms into a cream upon contact with the skin. The soothing texture and softening ingredients mean there is no feeling of tightness after cleansing. Further traces of make-up are instantly removed, along with impurities, pollution, and dead skin cells. The Triple Oil Balm is another perfect option for dry skin that combines make-up removing benefits with thorough, yet gentle, cleansing. The decadent balm texture contains nourishing and softening oils to aid in removing every type of make-up, impurities, and all traces of pollution.
"Proper cleansing is important to reduce any dullness and unevenness that can result from lack of moisture."
Unfortunately, when skin is suffering from dryness it can become even more difficult for it to absorb the moisture and nourishment it needs. This is where the right toner can make a major difference in softening the skin and enabling it to better absorb the benefits of a daily moisturizer. The Floral Toning Lotion features hydrolats of Rose, Cornflower, and Witch Hazel; known for their soothing properties they leave the complexion softer and better prepared for the next skin care step. The alcohol-free formula cleanses thoroughly yet remains gentle enough for even the driest skin types. Eau-Efficace is a unique 3-in-1 formula that utilizes plant-based saponins to help remove makeup, cleanse, and tone. Added softening and soothing ingredients provide comfort and calmness to dry skin, leaving behind a sense of well-being and freshness in addition to perfectly toned skin.
Once the skin is cleansed and toned, a moisturizer for day and night can help strengthen the moisture barrier in dry skin types and start you on a path toward comfortable, balanced skin. Hydra-Global is an ideal example of the type of intensive moisture that can help those experiencing dry skin. The cream-gel formula is refreshingly lightweight and features a combination of plant extracts, minerals, and essential oils that work together to support the skin's natural moisture balance and maintain optimal hydration levels.
The Black Rose Skin Infusion Cream is another perfect choice for women that enjoy a unique texture, in this case the formula transforms into micro-droplets of water that permeate the skin. Floral and marine plant extracts along with nourishing oils, deeply moisturize the skin giving it a "plumped from within" appearance. Saffron flower extract is the powerful key ingredient in Velvet Nourishing Cream, selected for its ability to comfort and provide relief in dry skin, it gives the complexion a visibly revived appearance. As its name suggests, the velvety texture envelopes the skin in moisture for a soothing application that dries quickly enough to apply make-up directly afterward.
When dry skin is caused by the natural aging process, Sisleÿa Extra Rich is an ideal choice to replenish moisture while addressing visible signs of aging in the complexion. Its complete anti-aging formula acts on wrinkles, firmness, radiance, and density within a nutrient-rich formula to improve dry skin. All Day All Year can be layered over all of these moisturizers in the daytime, or worn alone, to provide protection against UVA and UVB rays and free radicals that can stress the skin. Dry skin types benefit from the added hydration of nourishing oils and plant extracts while protected all day from external aggressors that can further dry out the skin.
Overnight, the skin goes through cellular regeneration, making nighttime ideal for delivering extra hydration and targeting the visible signs of aging simultaneously. Supremÿa Baume has a complex of Hazelnut oil, Kokum butter, and Macadamia oil, relieves dry skin overnight so you can wake up to the look of a revitalized complexion. Each night the moisture barrier is supported with intensive hydration and each morning the complexion feels renewed.
Discover our Dry Skin Starter Kit