Your Routine: Oily & Combination
For those with oily and/or combination skin, each step of your daily skin care routine is essential in supporting better oil balance for a mattified complexion. Sisley Paris offers multiple selections for every step, all of which help to maintain the delicate balance of these skin types.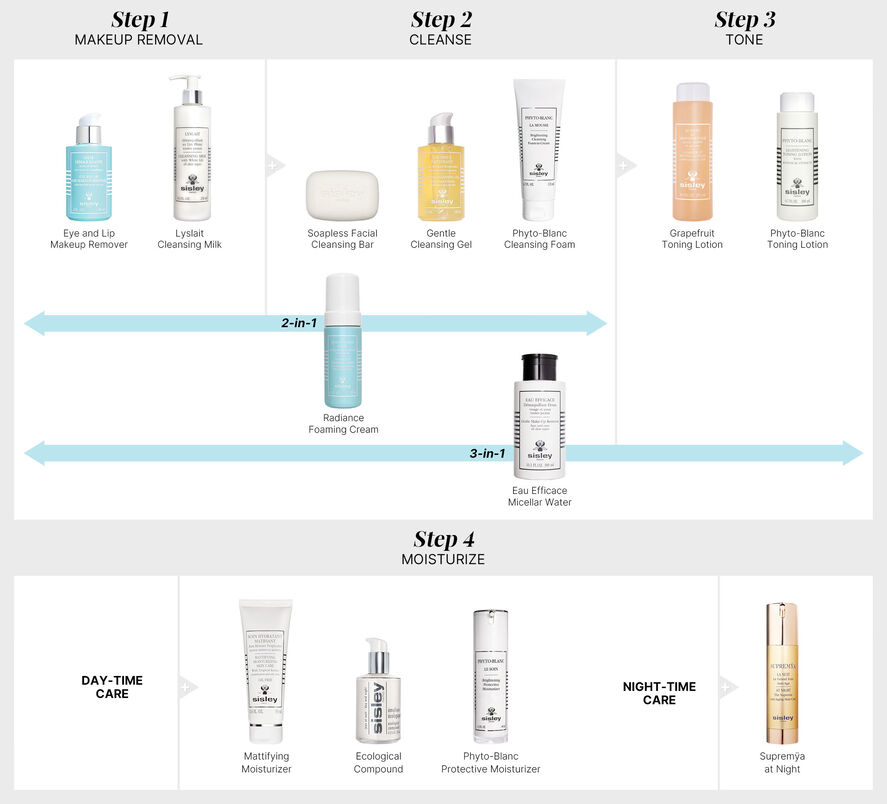 Step 1: Makeup Removal

A careful and thorough removal of makeup is not just a helpful precursor to a full cleansing. It also ensures residue will not clog pores nor cause blemishes, which can be a common concern for oily and combination skin types. Lyslait is the perfect choice for those that enjoy a creamy texture for their makeup remover that helps support the fragile oil and moisture balance in skin. The Eye and Lip gel makeup remover is ideal for someone who prefers a lightweight, gel texture that melts into the skin as it clears every trace of makeup.
Step 2: Cleanse
Many people with combination or oily skin make the mistake of gravitating toward products that are over-drying. Cleansers that strip skin of moisture and oil will cause skin to over-produce oil, creating an endless cycle. This skin type needs gentle cleansers that are specifically formulated to respect the delicate balance of the skin while removing excess sebum and impurities.
The Soapless Gentle Foaming Cleanser is a cleansing bar that utilizes a combination of calendula and tropical resins to create a purifying effect without any drying effect on the complexion. For a gel texture option, Tropical Resins Gentle Cleansing Gel features Marshmallow extract to provide added moisture as it cleanses pores and improves the look of luminosity. Phyto Blanc Mousse offers a comforting foam-in-cream sensation that also addresses dullness and unevenness in the complexion.
The Radiance Foaming Cleanser combines the actions of a makeup remover and cleanser into one refreshing, foaming texture. This formula works equally well for women who find they need an extra boost of makeup removal within their cleanser, as well as those looking to combine both steps into one convenient but effective product.
"Many people with combination or oily skin make the mistake of gravitating toward products that are over-drying."
The important skin care benefits that a toner provides (including added cleansing and softening) should never be overlooked, especially by oily and combination skin types. The Grapefruit Toning Lotion serves as another gentle purifying step while also helping to minimize the appearance of pores, a common concern for those who experience oily or combination skin. The Phyto Blanc Toning Lotion works similarly to tighten the look of pores and boosts the appearance of brighter, more even-looking skin with Lemon, Scutellaria, and White Mulberry extracts.
Another well-suited toner option to carefully purify yet hydrate oily or combination skin is Eau-Efficace. Its 3-in-1 formula contains plant-based saponins that help to remove makeup, cleanse, and tone. All traces of makeup and pollution from the day are erased and the complexion is left feeling soothed and refreshed.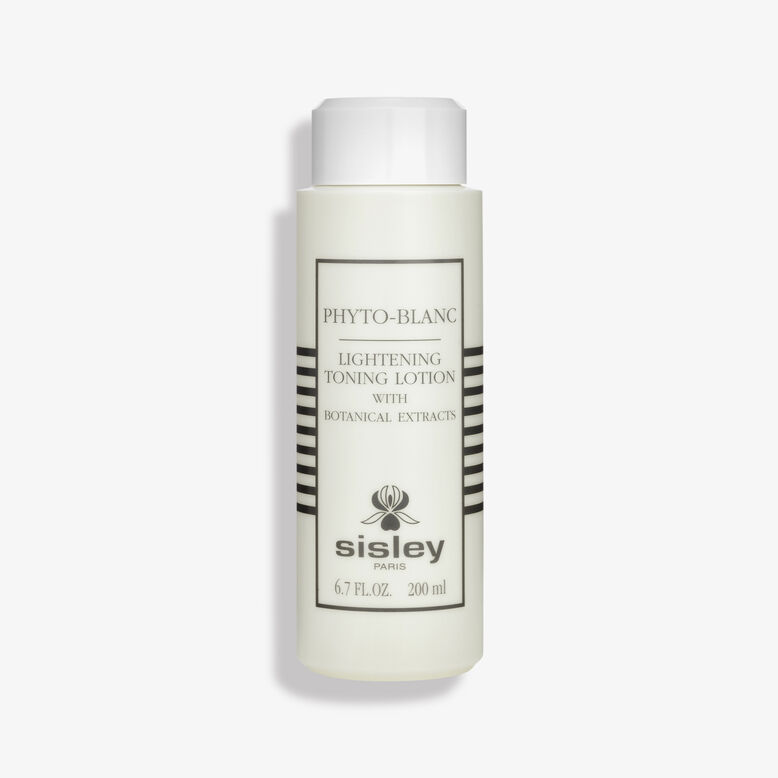 Toning lotion with brightening, hydrating, and purifying properties
The right moisturizer is vital for combination and oily skin types as dryness in the skin can quickly turn into increased oiliness overnight. Yet many women with these skin types are often concerned about a moisturizer causing shininess. With the Mattifying Moisturizer you are guaranteed to receive the perfect level of comforting hydration as Bamboo powder and Java tea extract leave a natural, mattified finish. The Ecological Compound is another lightweight but moisture-packed option for these skin types. Its non-greasy texture dries to a matte finish and delivers a synergistic compound of plants to improve the look of tone and suppleness.
For someone experiencing combination to oily skin, who also wants to target dark spots or unevenness of the complexion, the Phyto Blanc Le Soin is their ideal all-in-one moisturizer. The formula provides intensive hydration and aims to balance color harmony in the complexion. The result is a more unified and radiant appearance to the skin that has moisture and oil-production in balance. Nighttime works best to powerfully target the visible signs of aging in combination and oily skin types. Supremya at Night is a non-comedogenic formula that utilizes plant extracts, known for their anti-aging benefits, to create visible rejuvenating effects on the skin. The incredibly soft texture absorbs easily, so there is no need to fear a heavy or greasy feeling after application.
DISCOVER THE OILY AND COMBINATION STARTER KIT