Free standard delivery
To ensure you receive fast and efficient service, the transport solutions we offer are reliable and convenient. You therefore have two shipping methods available to you: Standard and Express*.
Standard delivery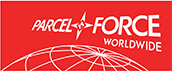 Parcel Force Standard delivery (within the United Kingdom between 5-10 working days after dispatch). Parcel Force Standard Delivery is free of charge.
Parcel Force will deliver to the address of your choice. If your package cannot be delivered, it will be left with a neighbour or at your local post office for collection.
*Please be advised Express Delivery is currently unavailable.