YOUR SKIN CONCERNS
Boost skin radiance
A radiant glow and an even texture are two of the hallmarks of "perfect" skin, and without these your complexion may look dull and lifeless.
Several factors can lead to dull skin - your natural skintype (e.g. dry or prone to blemishes and shine), your lifestyle, a lack of hydration or nutrition, and more.
By adopting good habits and an appropriate skincare routine, you can achieve glowy skin for a more radiant complexion.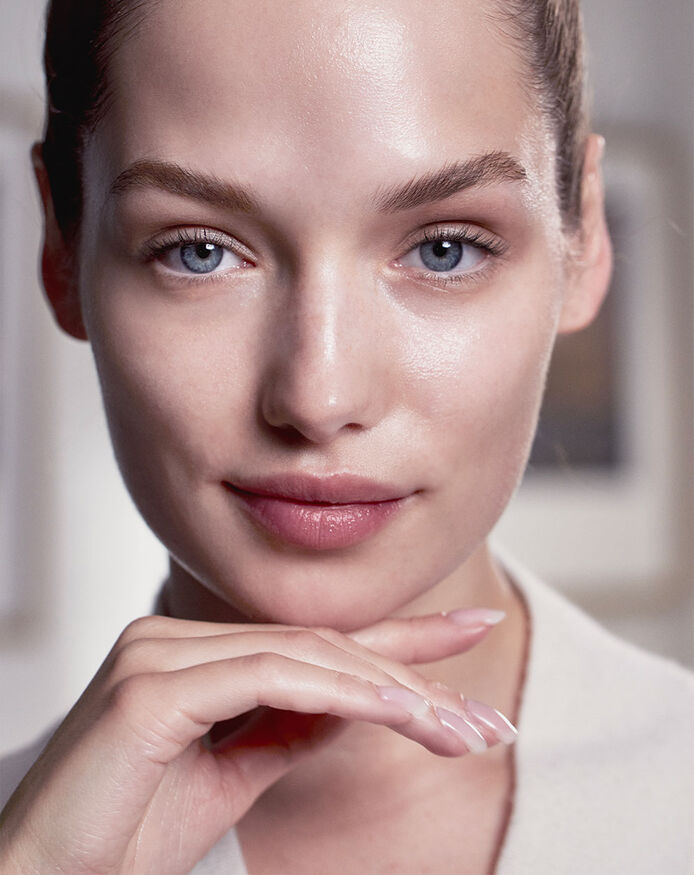 Exercise
Supplying the body and cells with oxygen helps promote skin radiance.
It's essential to engage in regular physical activity - there's nothing like a good workout for glowy skin with beautiful rosy cheeks!
A balanced lifestyle
Diet has an impact on skin quality. Too much coffee or other stimulant drinks, smoking, and an unbalanced diet can lead to dull skin and reduced skin radiance.
It's better to replace caffeine with herbal teas, drink at least 1.5 L of water a day, eat a healthy diet, and avoid overeating.
Revitalise your skin
Like other organs, skin naturally detoxifies itself.
Take advantage of the changing seasons to adapt your skincare routine to meet its needs.
Get a skin glow boost by dry brushing, which activates blood and lymph flow, removes dead cells and improves skin quality.

Cleanse skin daily
To be radiant, skin needs to be cleansed correctly.
Use a make-up remover to maintain a healthy face glow, and double-cleanse your skin with glowing skin products.
This cleansing will help remove make-up and pollution residue, excess sebum and impurities all at once.
Radiance-boosting skincare


How do I know if my skin lacks radiance?
Radiant skin reflects the light. If the skin texture is uneven or skin is too dry or dehydrated, your complexion may become dull and lifeless. If it's too oily, then it will be shiny (particularly around the T-zone) instead of radiant.
What reduces skin radiance?
Several factors can reduce skin radiance.
These can be internal like ageing, skin type and skin condition, or external like the season, weather and pollution.
The presence of dead cells or dark spots may also impact skin radiance, face glow, or texture evenness.
How to restore glowy skin?
Start by cleansing and moisturising skin daily with facial products suited to its needs.
You can use double-cleansing to fully rid skin of make-up and impurities in the evening.
Regularly exfoliate skin and protect it from the sun and external aggression.
How often should I do a face scrub?
How to exfoliate sensitive skin?
Use an enzyme exfoliant, which is gentler on skin, instead of a mechanical face scrub (with particles).
What is the difference between radiance and shine?
Radiance is a sign of balanced skin that does not lack hydration or nutrition, while shine is due to excess sebum.
They are found in different places: shine is localised around the T-zone while radiance is found on the fullest part of the cheeks and the raised parts of the face.