Prepping the Perfect Complexion
If you want your make-up to deliver an even, radiant and long-lasting finish, prepare your skin before reaching for your make-up.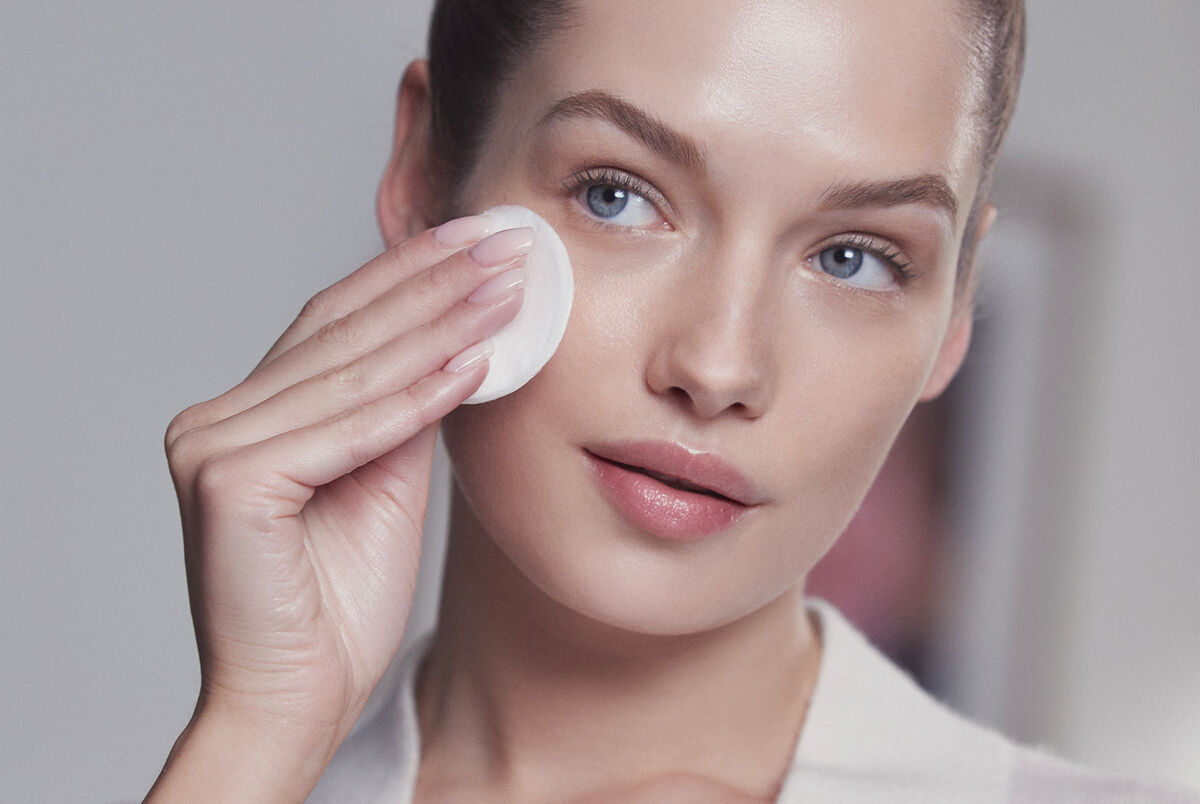 The cleansing routine
In the morning, your skin needs gentle cleansing to remove impurities that have built up on the surface overnight. Try a toning lotion applied with a cotton pad, such as the Floral Toning Lotion, which is ideal for dry or sensitive skin. For combination or oil-prone skin, try the Grapefruit Toning Lotion to reduce the look of pores.
Targeted skin care
The Velvet Nourishing Cream with Saffron Flowers is the perfect next step to soothe and moisturize skin that feels dry or uncomfortable.
Combination or oil-prone complexions can count on Mattifying Moisturizing Skin Care with Tropical Resins for a rebalanced, mattified look.
For a complexion that appears more radiant and replumped, you will enjoy the texture and results of Black Rose Skin Infusion Cream.
For a skin care product specifically targeting visible signs of aging, Sisleÿa l'Intégral Anti-Age delivers powerful ingredients to address multiple anti-aging concerns while All Day All Year offers two targeted benefits against the external aggressions responsible for skin aging.
To enhance the effects and benefits of any of these targeted skin care products, also apply a serum that addresses the concerns or specific needs of your skin.
Hydra Global Serum, Sisleÿa l'Intégral Anti-Age Anti-Wrinkle Concentrated Serum or Intensive Serum with Tropical Resins are all effective complementary boosters to your skin care cream.
Important: don't neglect the delicate and fragile eye area. Prepping the eye contour with the proper skin care products improves application of your eye make-up.To reduce puffiness and the appearance of dark circles, you can use the Black Rose Eye Contour Fluid and for a targetted anti-aging action, you can use the Sisleÿa Eye and Lip Contour Cream.

PRODUCTS FOR YOUR SKINCARE ROUTINE
Primer
Because primer is key for a long-lasting make-up, Sisley has developed a range of choices to be applied between your skin care and make-up. Instant Correct is a color-correcting primer that rebalances the natural skin tone and evens the complexion's appearance, creating the perfect base for foundation application.
Inspired by the interplay of complementary colors, Instant Correct enhances the complexion. For each of the shades (Just Rosy to warm pale skins and Just Lavender to neutralize yellow tones), Color Correct pearlisers and soft-focus agents work as optical color correctors. The result is brighter-looking skin, concealed imperfections, and a visibly smooth skin texture. The formula includes extracts of Iris and Lemon to help support skin hydration, protect against environmental damage and improve evenness in the complexion.
Instant Perfect creates a flawless, "filtered" look for an overall enhanced appearance. Its formula, enriched with extracts of Frangipani, plant Glycerin and soft-focus powders, smooths fine lines and diminishes signs of fatigue and shiny areas.
Instant Éclat is the perfect primer to add an energizing boost to a dull complexion. Its formula diminishes the appearance of dark shadows and signs of fatigue. The ingredients work on the four key factors in skin radiance; they hydrate, energize, tone and make skin look replumped. It can be applied on its own, under foundation or on the contours of the face for even more radiant skin.
Camouflaging dark shadows and imperfections
Concealer is the last stage of preparation before applying foundation. Your everyday beauty hero, it hides the signs of late nights and early mornings, and brightens shadowy areas when your complexion is looking dull and fatigued.
Phyto-Cernes Éclat instantly conceals dark circles and shadows and reduces the appearance of undereye puffiness and signs of fatigue. It visibly smooths wrinkles and fine lines using ultra-pure pigments. It can be applied with the fingertips or a brush to areas that need camouflaging, for an instantly refreshed look of radiance.
For ultra-luminosity, the Stylo Lumière is the highlighting pen you need. Its combination of pigments and soft-focus agents illuminate the complexion and invisibly conceal imperfections. The formula's specially selected "Spectacular Light" pigments have a refractive index close to that of diamonds for truly stunning results. Boost radiance, brighten the eye area and optically smooth the appearance of wrinkles and fine lines.
Now that you have completed your prep, your complexion is a perfect canvas for a gorgeous and long-lasting make-up look.