Eau de Campagne 100 ml
A play of chypre, citrus and grassy aromas.
You cannot add this quantity to your cart because you've reached the maximum for this product.
This product is not available
Earn
14

points
with this product*.
The inspiration
Une Eau de Toilette mixte. Frais, vert, casual chic. Un concentré de nature, symbole olfactif d'un art de vivre à la Française. L'harmonie parfaite des notes hespéridées et d'une signature naturelle et végétale sur fond chypré. Un souffle vert et stimulant qui insuffle du bien-être et de l'élégance au quotidien. L'Eau de Campagne bourdonne de Basilic, d'herbes sauvages et de Citron. Ces notes hespéridées viennent s'appuyer sur l'odeur unique et singulière des feuilles de Tomates vertes et sur les notes fleuries de Jasmin, Prune, Muguet et Géranium. Dans son sillage s'épanouit la douceur boisée de la mousse de Chêne, du Musc et du Patchouli.
Applications
Top notes: Bergamot, Lemon, Basil, Galbanum, Wild herbs
Middle notes: Tomato leaves, Jasmine, Geranium, Lily of the Valley, Plum
Base notes: Oak moss accord, Patchouli, Vetiver, Musk
Olfactory notes
Notes de tête : Bergamote, Citron, Basilic, Galbanum, Herbes sauvages
Notes de cœur : Feuilles de tomates, Jasmin, Géranium, Muguet, Prune
Notes de fond : Mousse de chêne, Patchouli, Vétiver, Musc
Need personalized advice or information about a product? Our beauty consultants are available Monday to Friday from 9:30 am to 5:00 pm (toll-free)
List of Ingredients
ALCOHOL, WATER/EAU (AQUA), FRAGRANCE (PARFUM), EVERNIA PRUNASTRI EXTRACT, BUTYLPHENYL METHYLPROPIONAL, LINALOOL, LIMONENE, HYDROXYISOHEXYL 3-CYCLOHEXENE CARBOXALDEHYDE, HYDROXYCITRONELLAL, HEXYL CINNAMAL, GERANIOL, EUGENOL, COUMARIN, CITRONELLOL, CITRAL, BENZYL SALICYLATE. IL#2A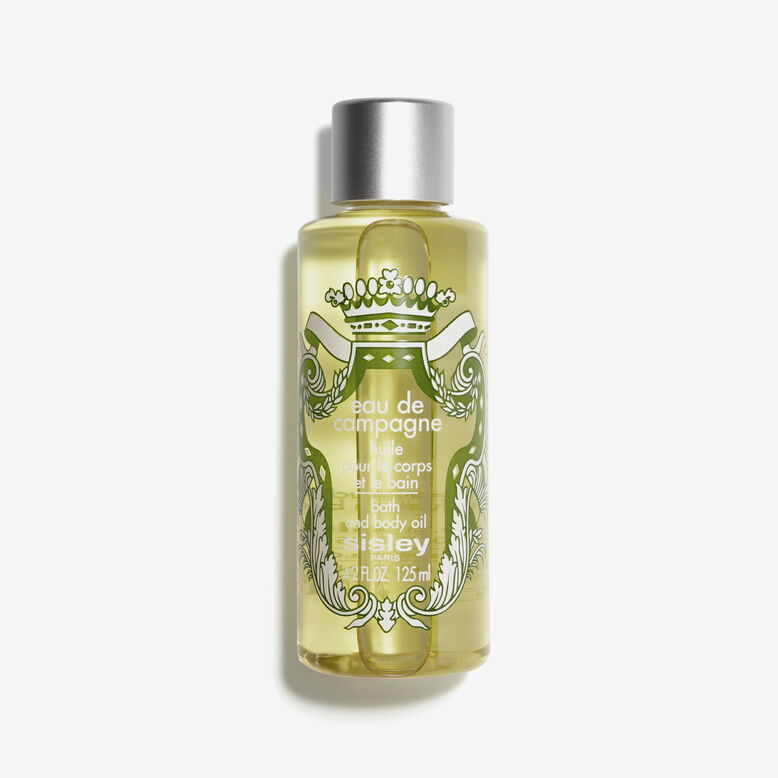 Soothing and softening fresh scented bath oil
You do not have enough loyalty points for this product.
Invigorating and long-lasting deodorant
You do not have enough loyalty points for this product.
Share your reviews
Only members can add a comment.
Eau de Campagne is at once fresh, clean & elegant- and epitomizes this more eloquently than any other fragrance I can possibly imagine. From the moment I took my first whiff over 35 years ago I began my lifelong love affair with this scent. Sisley tells us the scent inspires a feeling of well-being and elegance--that it does, THAT IT DOES!
HOW ARE VERIFIED REVIEWS COLLECTED?
Verified Reviews is a trusted third-party selected by Sisley to collect reviews pertaining to experiences on the website and products following a purchase on the Sisley Paris website.
After an order is placed on the Sisley Paris website, customers receive an email from Verified Reviews inviting them to comment on the website and the ordered products, and rate their experience.
These ratings will be collected by Verified Reviews, and then posted on the Sisley Paris website after moderation in order to avoid the publication of reviews in the following cases:
- The posted review is considered defamatory.
- The rating doesn't match the comment.
- The text contains random characters or is so poorly written as to be nearly unintelligible.
- The descriptive elements of the consumer experience are not entered.
- Review identified as attempting to manipulate the average of the product or company.
- The content is unrelated to the rated subject.
- The text includes personal information or any other information likely to lead to identity theft: the first or last name of individuals that are not public corporations, phone numbers, specific postal addresses or email addresses, credit card, social security, or bank account numbers, or any other information likely to lead to identity theft.
- The text encourages purchasing from a competitor.
- The text indicates that the Consumer hasn't completed his or her consumer experience.
- The review manager considers that it could be held civilly or criminally liable.
- The content of the review is unlawful (obscenities, language that is abusive, of a sexual nature or homophobic, racist, antisemitic, etc.)
- The review contains concrete elements demonstrating a conflict of interest.
- A consumer writes an inappropriate comment concerning the content of another review or its author.
- The text is clearly spam or mentions websites and URLs, including those of the customer or the manufacturer.
- The text includes a call for legal action.
- The customer expresses in writing their wish to change their review.
The reviews and the overall rating of products will be displayed on the website's product sheets. The reviews and the overall rating of the website will be displayed on the Verified Reviews website for Sisley. The overall rating will also be displayed in the footer of the Sisley Paris website.
Sisley-Paris leaves open the possibility of answering each review received.
Your comment has been taken into account and is under review.
*excluding any extra loyalty points or payments by gift card