hair rituel • February 2022
Anti-Dandruff Treatment: Introducing an ultra-effective duo to treat your dandruff and relieve your dry and itchy scalp
Unfortunately, there is no magic formula to rid you of dandruff. However, Sisley Research has enabled us to design effective hair treatments that can make a real difference in combating the effects of dandruff.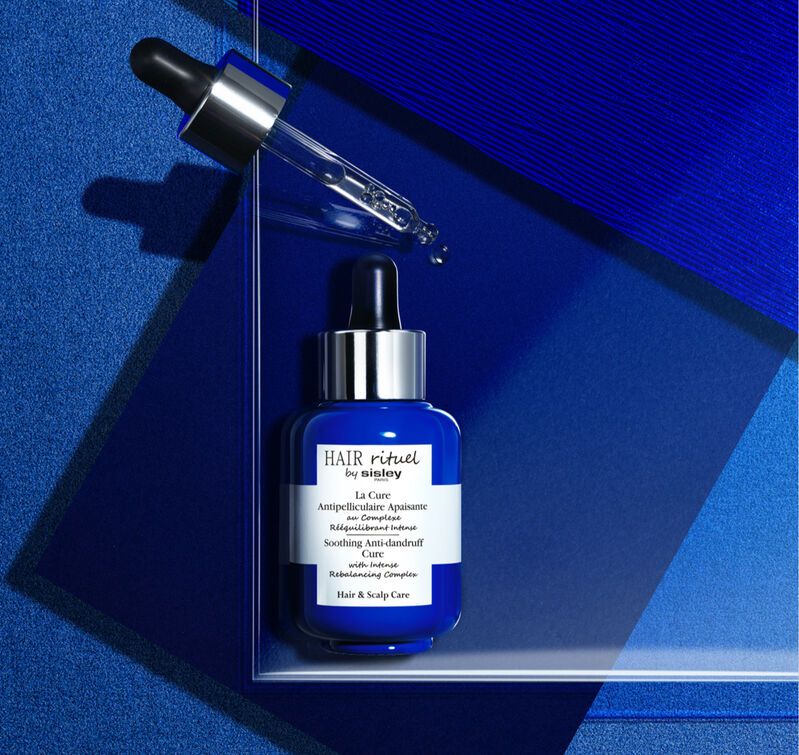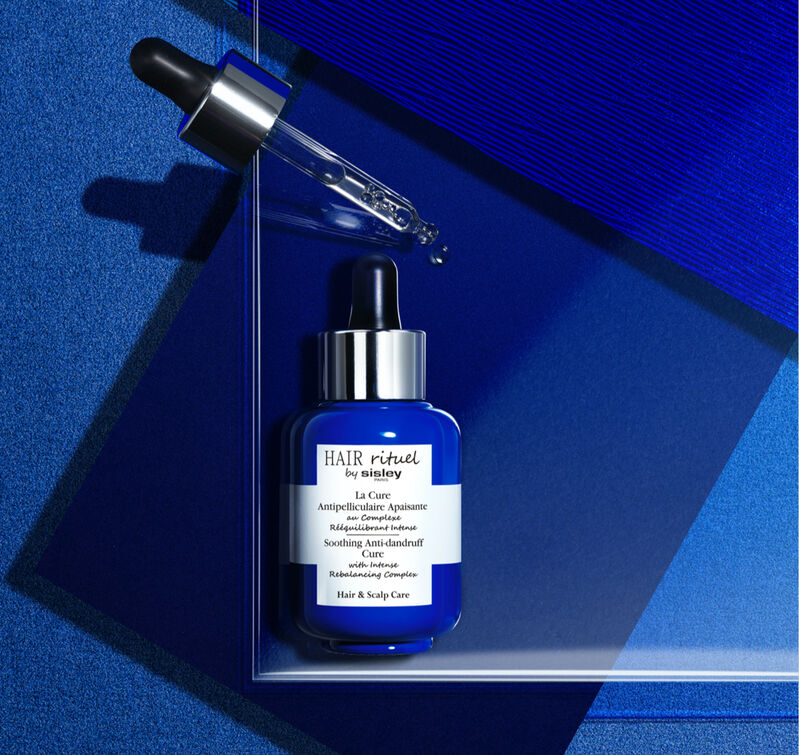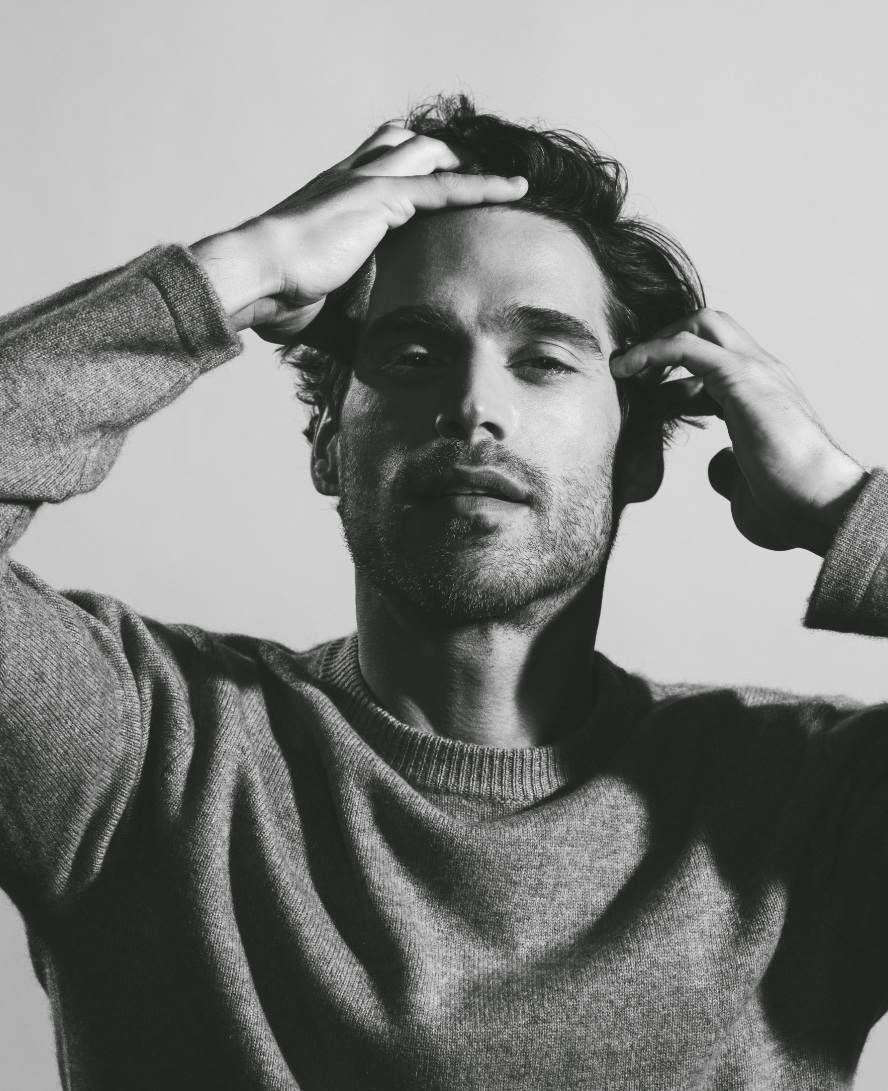 Dandruff can not only cause you discomfort due to itching and irritation of your scalp: Its noticeable appearance can also affect your confidence. Discover Sisley's latest innovations that focus on effective solutions.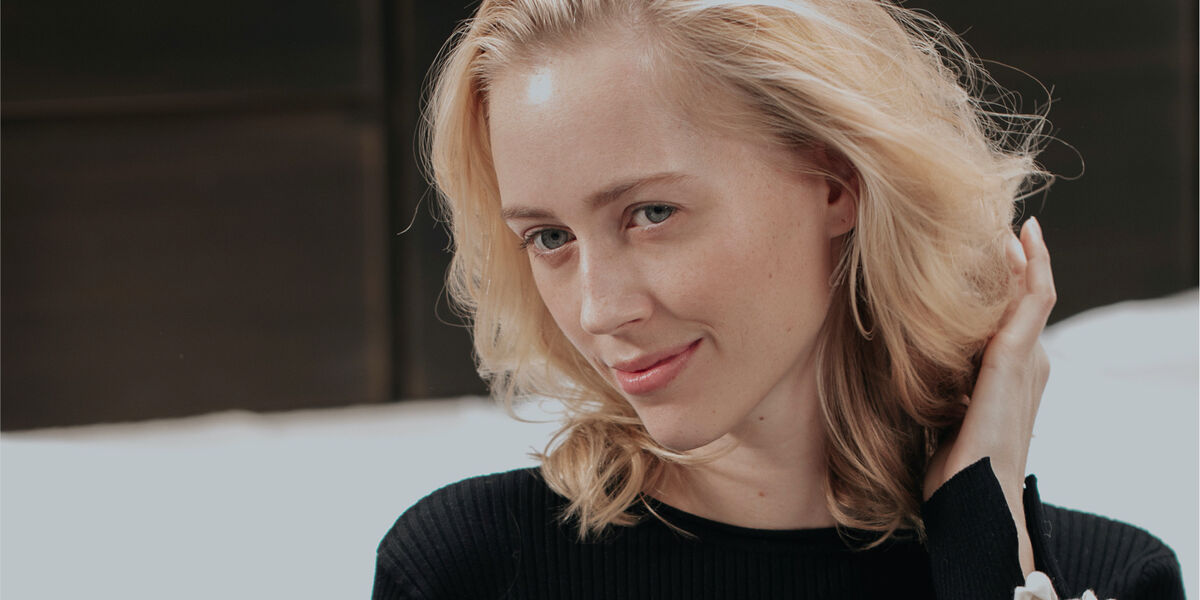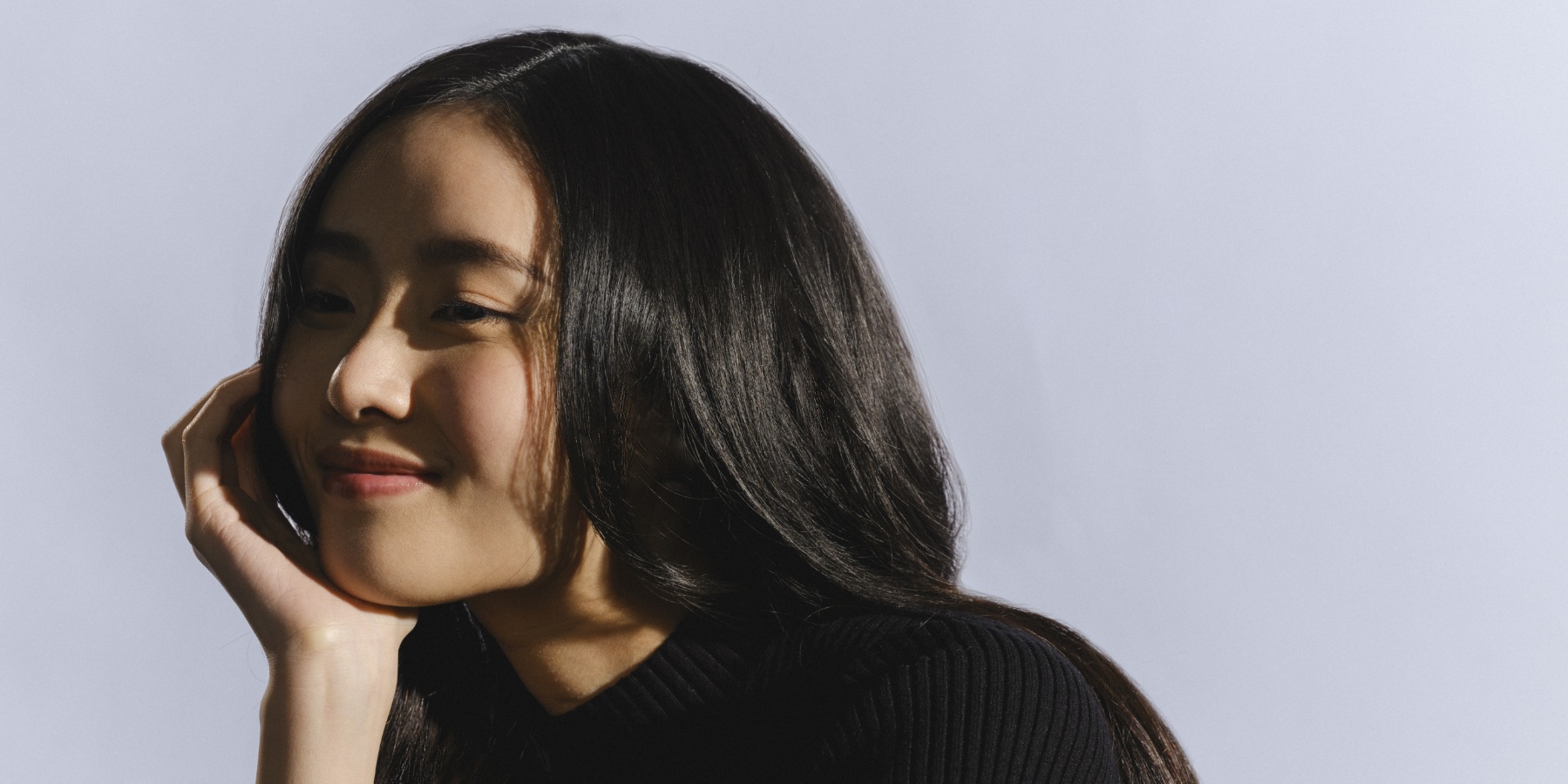 What causes dandruff?
Your scalp works in the same way as your skin. When an imbalance affects the way it works, negative signs appear and affect both men and women: Itching, irritation and unfortunately dandruff.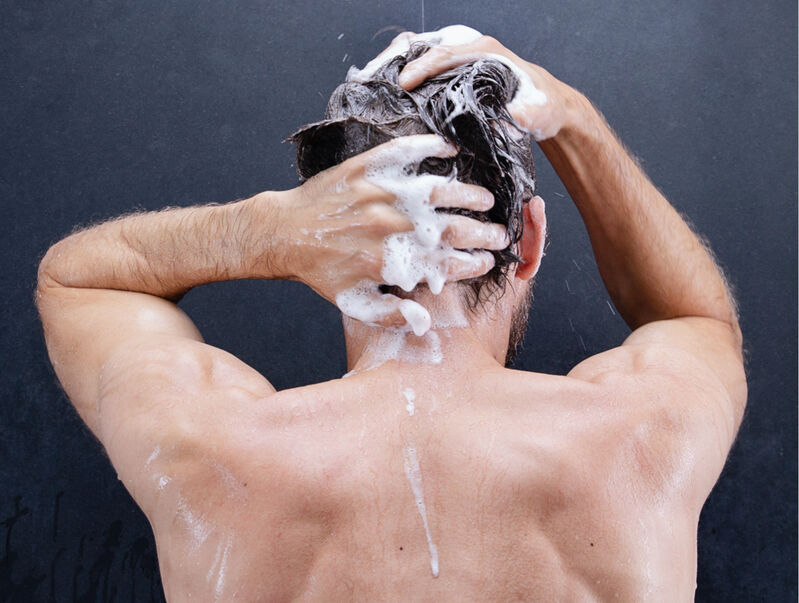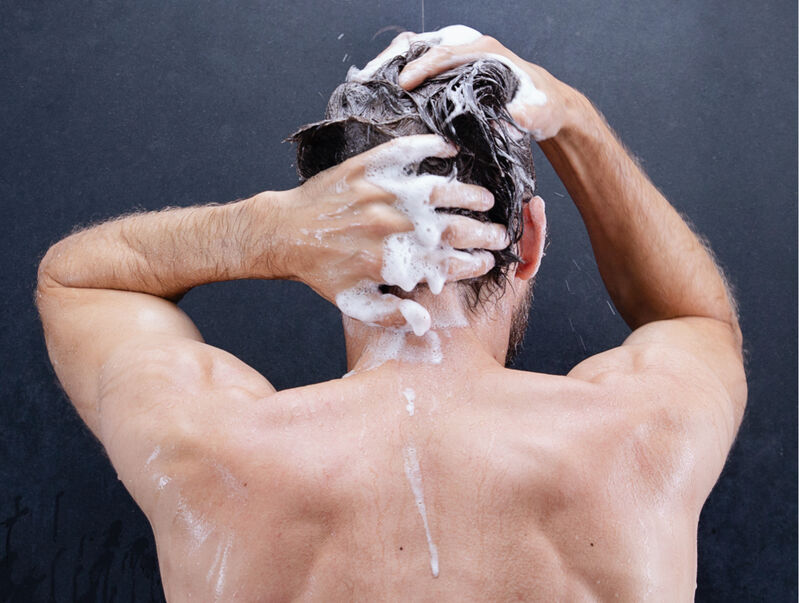 This negative reaction may be caused by damage from external sources (Heat, sun exposure, chlorine and salty water) or bad habits (excessive washing or an unsuitable shampoo that causes sensitivity) that leads to an imbalance in the microbiome and inflammation of the scalp.
To defend itself, the scalp reacts and accelerates cellular renewal: Flakes of skin become detached, the scalp becomes itchy and as a result we apply shampoo more frequently in an attempt to remove the dandruff and a continous circle is triggered. If you require long-lasting action and scalp relief, you should actually wash your hair less frequently and use shampoos with soothing formulas.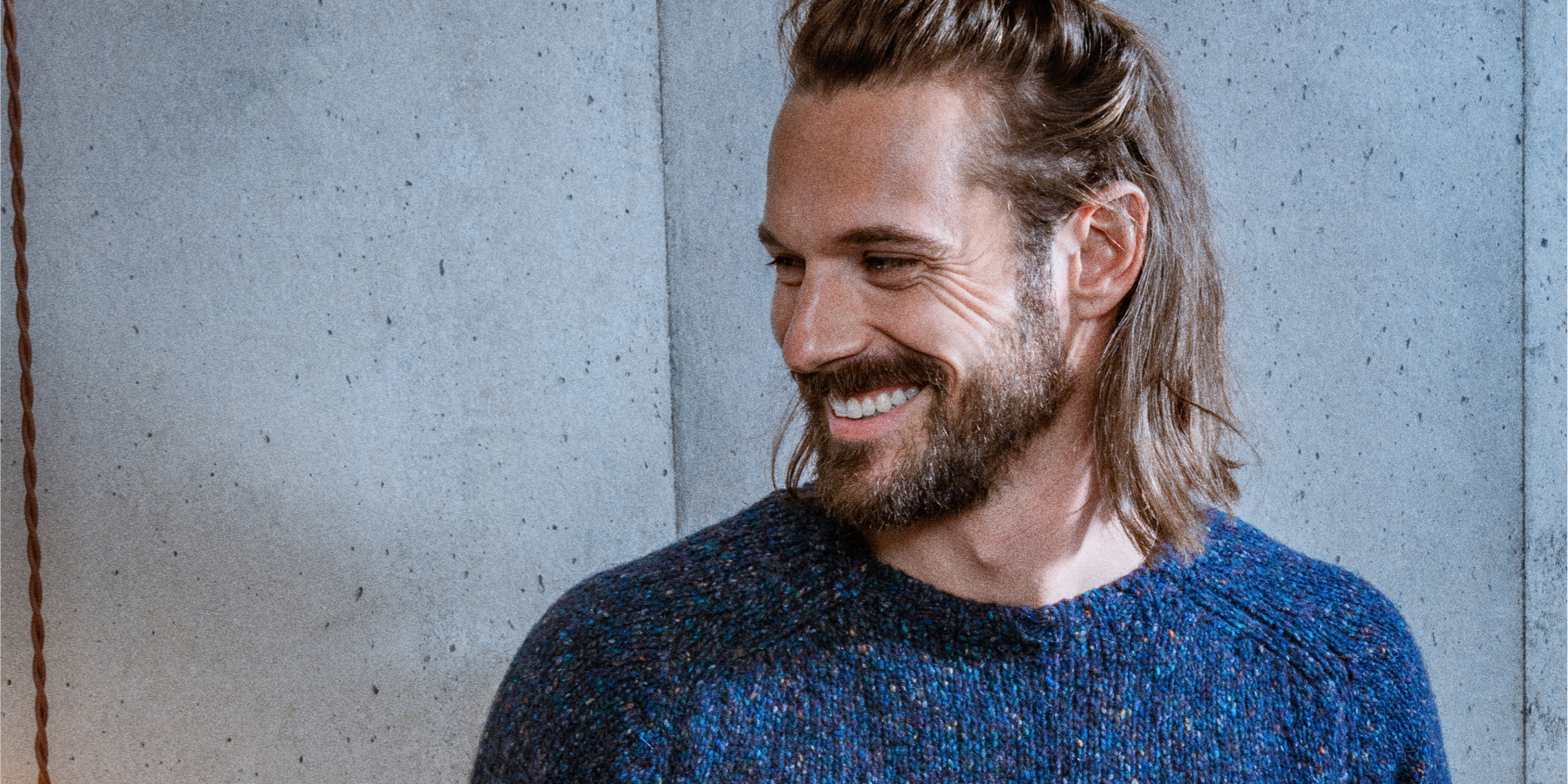 Establish good habits
Diet and lifestyle play an important part in the appearance of dandruff. Just like your skin, the scalp reflects the way we eat and how we live our lives. Therefore, it is possible to cure dandruff by taking greater care over what we eat and combatting the negative effects of stress.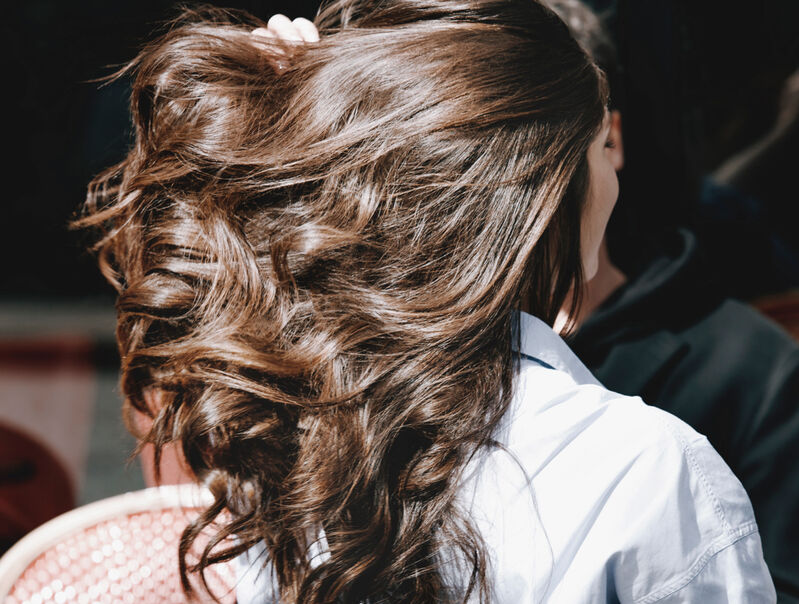 A varied diet, rich in fresh produce, fruit and vegetables, both cooked and raw, provides the nutrients and vitamins needed for a healthy lifestyle. Three vitamins should be prioritised: Vitamin A, vitamin B6 and vitamin E. The first can be found in butter, dairy products, eggs and liver.
Vitamin B6 is also present in bananas, liver, mushroomes, salmon, potatoes and wholegrains. As for vitamin E, it is essentially found in so-called 'healthy fats': hazelnuts, almonds, rapeseed and soya oils, wholegrains and oily fish.
Stimulants such as black tea, coffee and spices should be consumed in moderation as they increase the production of sebum and therefore have a damaging effect on hair condition.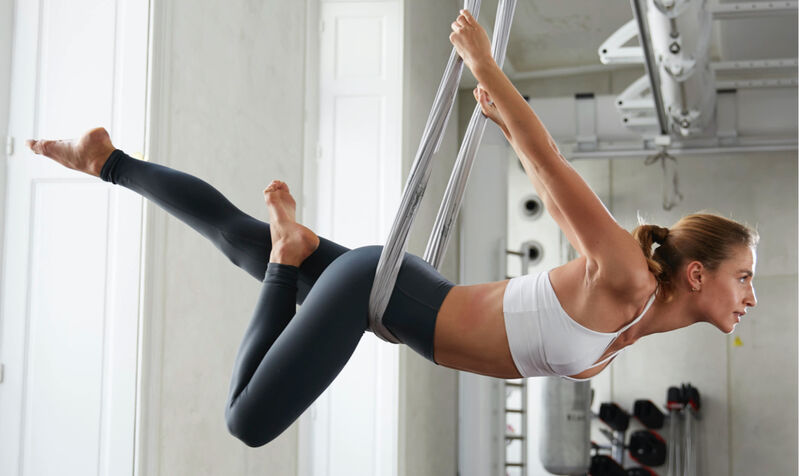 It is important to remain hydrated and to drink plenty of water, have enough sleep and regularly undertake physical exercise. Both sport and relaxation techniques coupled with core strength exercise routines such as (Yoga and Pilates) help lower the rate of cortisol (the stress hormone) secretion into the bloodstream.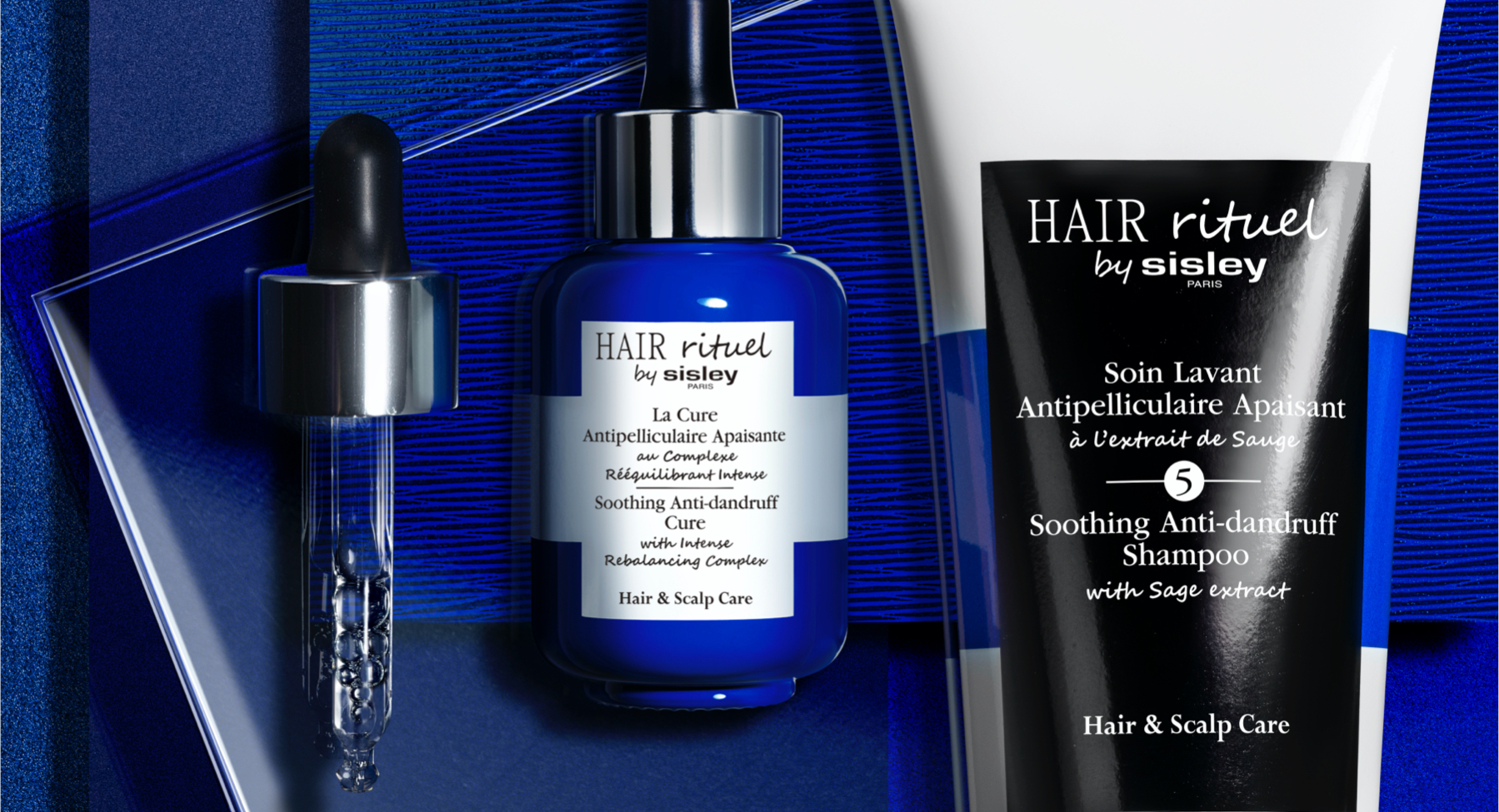 Two effective hair care treatments for long-term action against dandruff
Our Sisley laboratories have utilised our skincare expertise to design exceptional products to beautify your hair. We have developed a pair of treatments that focus on the source of the problem of rebalancing the scalp and reducing the appearance of dandruff. At the heart of Hair Rituel by Sisley Soothing Anti-Dandruff Shampoo and Soothing Anti-Dandruff Cure are the Intense Rebalancing Complex that purifies the scalp, soothes irritation and protects it from feelings of discomfort. What does it contain? Active ingredients of natural origin: Sage extract, Celery seed extract, essential oil of Exotic Verbena.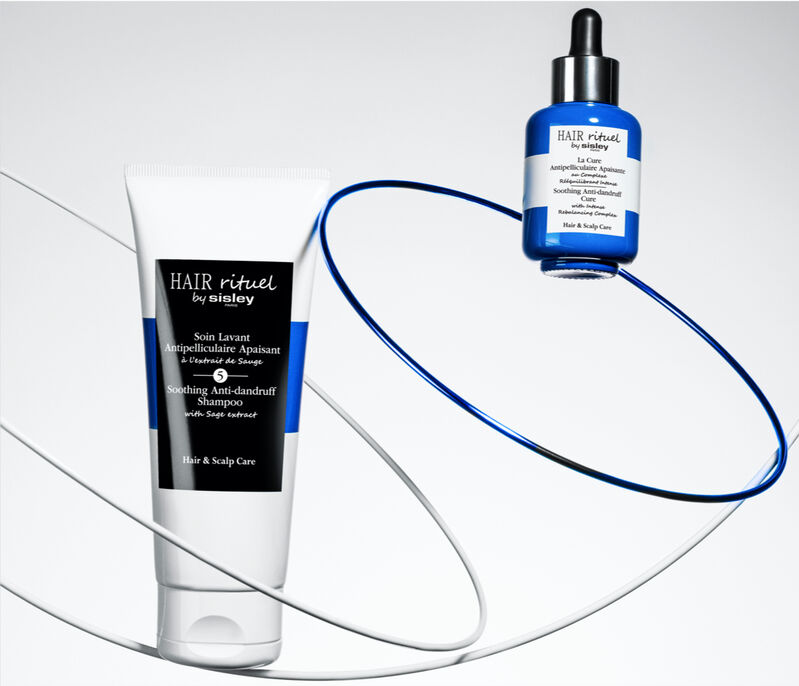 These two treatments also contain active ingredients that beautify your hair. Pro-Vitamin B5, Sisley's key active ingredient, strengthens the capillary fibre and adds body and volume to your hair. Hair is bouncier, softer and shinier.
Result: Immediate and long-lasting benefits. From the very first application, the appearance of dandruff is less visible and the scalp is soothed. Week after week, the scalp regains its balance once more. Your hair is shinier, stronger and silkier. The most impressive aspect? The anti-dandruff protection continues even after the treatment has stopped*.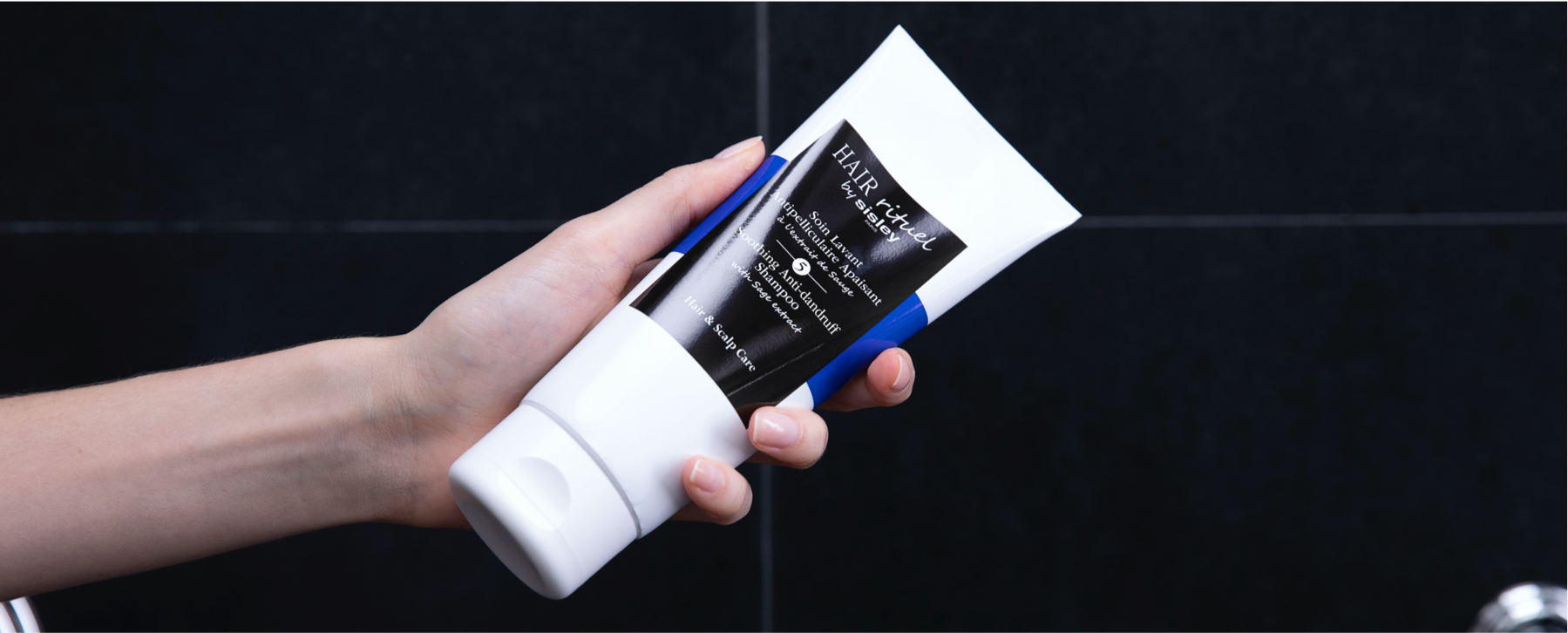 Soothing haircare routine to reduce scalp irritation
When washing your hair, apply a small amount of Soothing Anti-Dandruff Shampoo to wet hair. Massage the scalp and distribute throughout the hair from root to tip, adding water to create a lather. Finish by rinsing thoroughly. This conditioning shampoo is free from sulphates and gently cleans and purifies your scalp.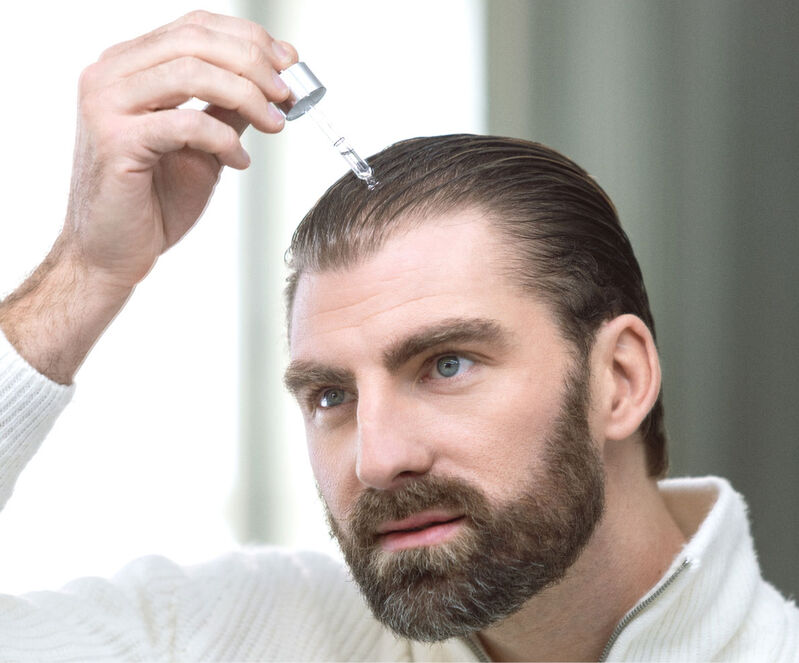 Apply Soothing Anti-Dandruff Cure to wet or dry hair three times a week for three weeks. Apply the equivalent of four pipettes, working section by section through your hair, to the scalp and then massage with your fingertips.
The result: A healthier, more comfortable scalp with no visible appearance of dandruff and beautiful, bouncy, strong hair.
*Test of effectiveness was for a minimum duration of 3 months, obtained following joint use of both Soothing Anti-Dandruff Shampoo and Soothing Anti-Dandruff Cure.